ATC SIA2-100 Stereo Integrated Amplifier
ATC
ATC SIA2-100 Stereo Integrated Amplifier
Overview
Compact in size yet offering high power output and exceptional resolution, this integrated amplifier with on-board DAC is ideally suited to driving ATC's small and mid-size passive loudspeakers and a very wide range of loudspeakers from other manufacturers. Understated styling makes it easy to integrate with partnering equipment whilst its small footprint occupies very little space in the home. An ideal partner for our CD2 CD Player.
Features
2 x line level analogue inputs.
3 x digital inputs: USB, Coaxial, TOSLINK.
Premium AKM 32-bit DAC.
USB digital input supports up to 384kHz PCM data and native DSD256.*
2 x 100W Discrete MOSFET Output Stage
Headphone amp featuring discrete output stage.
Handmade in England & covered by a 6 year warranty.
*DSD256 support via PC only (up to DSD128 via Mac).
Specifications
AMPLIFIER
Max Continuous Power Output: 100W (0.1% THD, 8 ohms, both channels driven)
Frequency Response: < 2 Hz – > 250 kHz (-3dB)
Distortion: <0.0015% / 96dB (1kHz, 8 ohms, 1dB below full power)
S+N/N Ratio: >112dB (IEC 'A')
Crosstalk: >90dB (10Hz – 20kHz)
Input sensitivity: 500mV (ref. 100W out)
Analogue Pre-Amp Outputs: 1 x stereo pair via RCA/Phono
Headphone Amp Output: 1 x via 6.35mm jack
Analogue Line Inputs: 2 x stereo pairs via RCA/Phono
DAC
Digital Inputs: 1 x TOSLINK, 1 x Coaxial, 1 x USB Audio
Distortion: <0.001% at all supported sample rates
Supported Formats TOSLINK: Up to 24/96 PCM
Supported Formats Coaxial: Up to 24/192 PCM
Supported Formats USB: Up to 32/384 PCM.
Up to DSD256 via Windows/Linux.
Up to DSD128 via Mac.
PHYSICAL
Dimensions: 113 x 315 x 342mm (H x W x D inc. binding posts)
Weight: 9kg
Reviews
Information
Integrated Amplifiers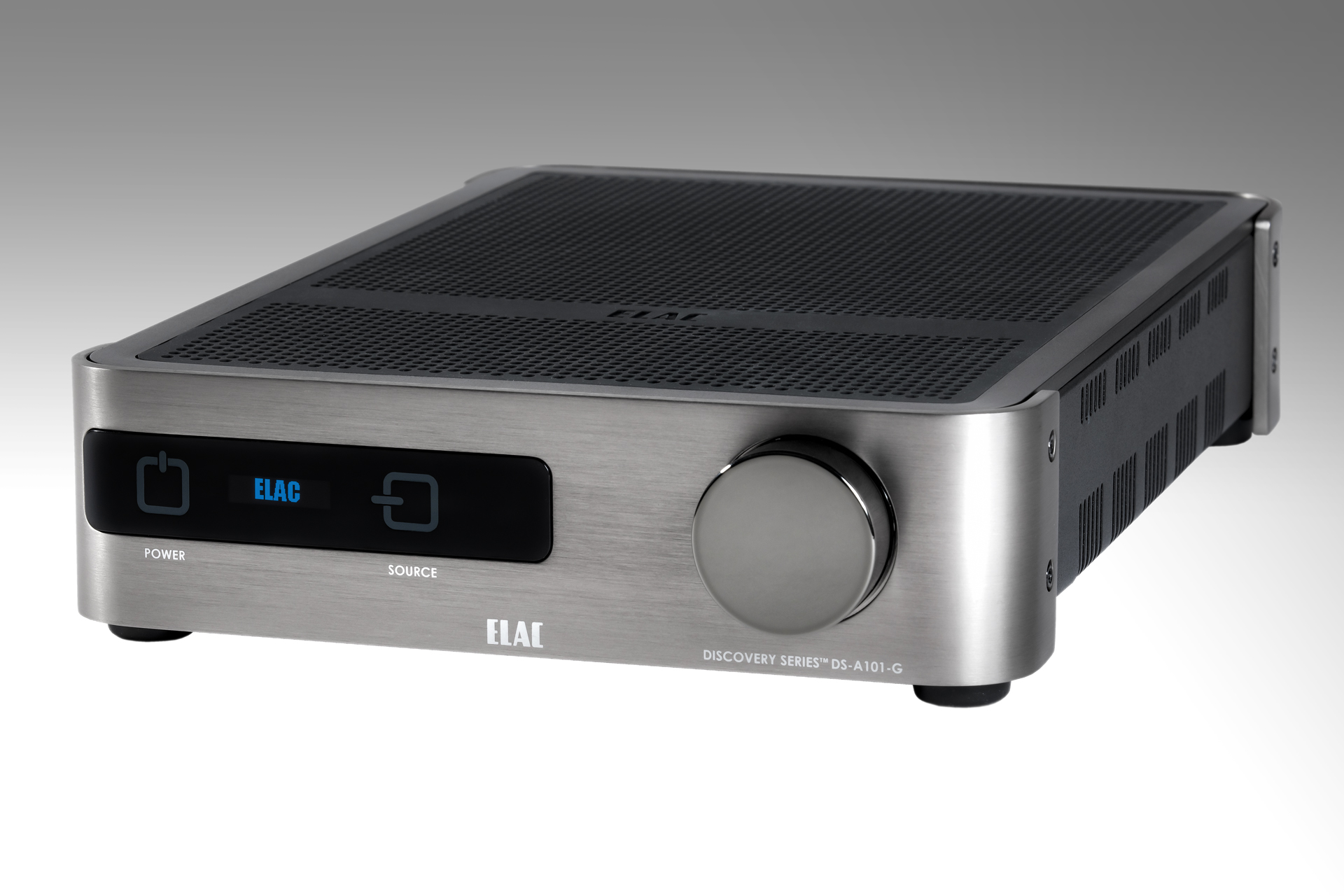 Подобно на известните швейцарски ножчета, ELAC Discovery DS-A101-G е събрал големи възможности в малкото си тяло. Дали може всичко… едва ли, но ще имате ли необходимост от повече?