ELAC Concentro S 503
ELAC
ELAC Concentro S 503
Overview
The name Concentro signifies the extraordinary in every respect.
The compact Concentro S 503 masterfully delivers the 'wow factor' from a surprisingly small package.
AS-XR technology
Unique, eye-catching, and acoustically ideal: the crystalline shape of the membrane provides the perfect balance of stiffness and damping.
Modern Hybrid Design
The progressive design elements from the Concentro Series combine with the clean lines of the Vela Series to create a strong visual presence.
StepX-JET
Since no two rooms are the same, midrange directivity can be adjusted using the exchangeable DCRs supplied.
Be in no doubt, the S 503 is a true Concentro in every respect.
Design features and technical details that drove the success of the S 507 and S 509 are now combined in compact dimensions.
The trapezoid basic shape, convex shaped baffle, and gently angled cabinet combine in a strikingly organic way to create a strong visual statement.
The extensive list of patented features and the revised woofer magnet system guarantee superlative sound.
The effortless performance can be adjusted to suit the room acoustics.
Close your eyes and you'll instantly forget you're listening to a compact speaker … all you hear is music.
The Concentro S 503 is available in black and white highgloss finishes and in high-gloss walnut veneer.
The LS 100 stand specially developed for the Concentro S 503 is an available option.
Specifications
Type: 3-way, bass reflex
Woofer: 1 x 180 mm Ø, AS-XR cone
Midrange: 1 x 50 | 130 mm Ø, AS-XR AL cone
Tweeter: JET 5c
Crossover frequency: 400 | 2600 Hz
Nominal/peak power handling: 120 W | 200 W
Minimum impedance: 4,8 Ω bei 120 Hz
Peak power handling: 400 W
Sensitivity: 87 dB / 2,83 V/m
Suitable for amplifiers from – to: 4 – 8 Ω
Nominal impedance: 4 Ω
Recommended amplifier power: 60 – 500 W/channel
Finishes: High-Gloss Black Lacquer, High-Gloss White Lacquer High-Gloss Walnut Veneer
Accessories: Bi-Wiring-jumper set, 3 DCR (Directivity Control Ring)
Height: 400 mm
Width: 225 mm
Depth: 372 mm
Weight: 13.4 kg
LS 100 Stand Pair (optional): 2 350.00 лв.
Цена за чифт – 13 716.00 лв.

…
Цена за чифт – 15 284 лв.

…

…
Information
Подобни продукти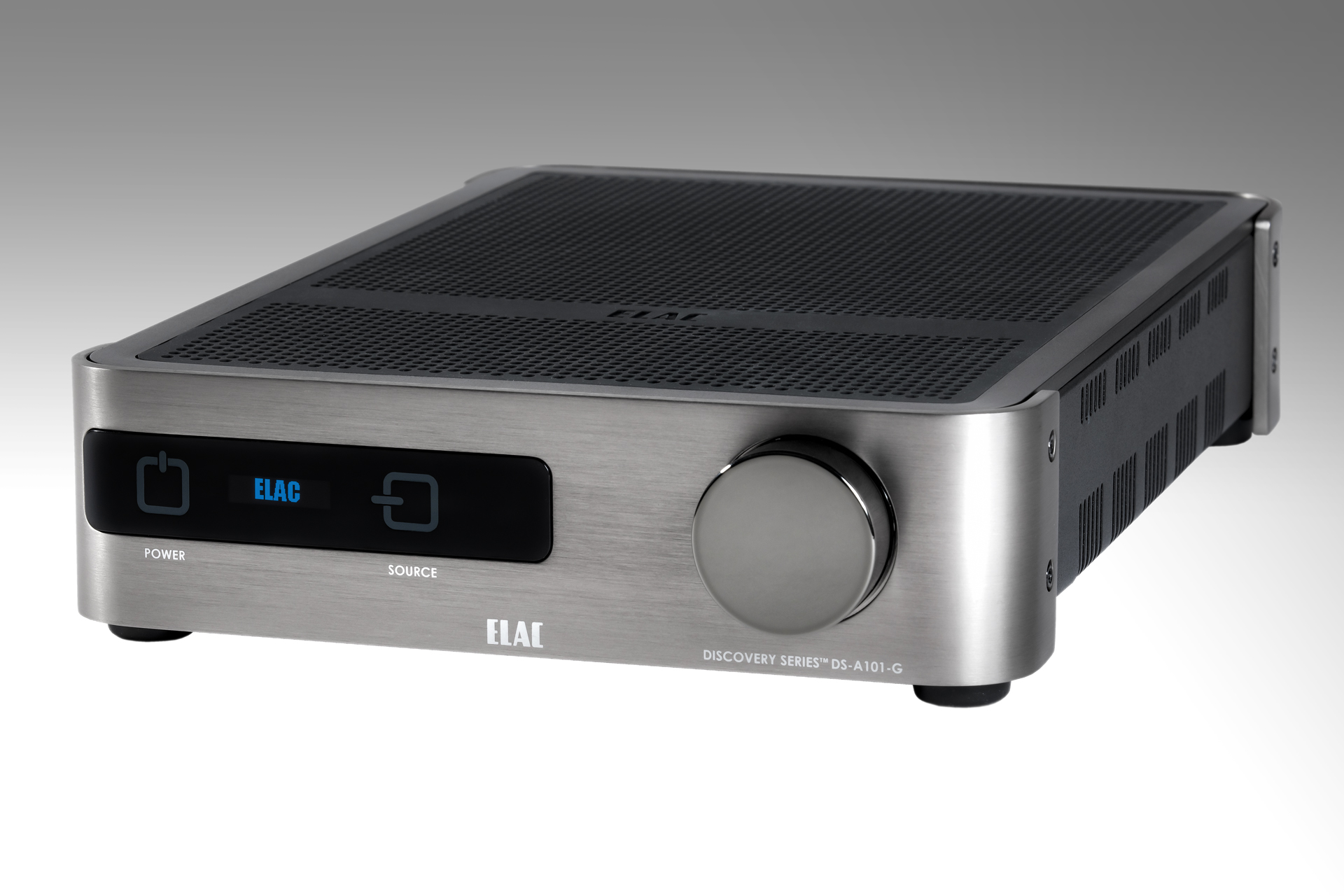 Подобно на известните швейцарски ножчета, ELAC Discovery DS-A101-G е събрал големи възможности в малкото си тяло. Дали може всичко… едва ли, но ще имате ли необходимост от повече?