M&K Sound IW28S In-Wall Subwoofer
M&K SOUND
M&K Sound IW28S In-Wall Subwoofer
IW28S In-Wall Subwoofer
More than four decades of experience and insight have been applied to the design of this truly invisible subwoofer, based on high-performance 8" woofers specially developed for the M&K Sound V Series subwoofers and ingeniously adapted to meet the extreme demands of shallow, flush-mount installation while delivering the quantity and quality of deep bass that consumers and professionals expect from M&K Sound.
The specially tuned, ultra-fast, mass-loaded dual drivers employ aluminum shorting rings for minimal voice coil distortion at long excursion. Highly rigid paper pulp cones with high inner damping ensure stability at extreme levels and low resonance.
The ultra-linear solid ferrite magnet system provides effective dissipation of heat from the voice coil to prevent power compression from limiting the acoustic output of the system.
The drivers are installed in full contact with the front baffle and the rear of the box for ideal mechanical stability to minimize driver resonances that can occur due to the limited volume of an In-Wall enclosure.
VA500 Subwoofer Amplifier
This dedicated Class D amplifer with high efficiency, cool running and low standby voltage consumption is a further development of the amplifiers built into the popular M&K Sound V Series subwoofers. The Class D switch mode power module is designed with effective power reserves to effortlessly deliver copious amounts of clean power to the IW28S In-Wall sub for extraordinary, uncompromising handling of demanding deep bass transients.
A precisely calibrated dynamic headroom control circuit constantly monitors the signal to prevent audible clipping, while maintaining the full dynamic range of modern digital audio formats.
Stereo inputs and line-level passthrough connections provide valuable flexibility for system building and future expansion. For perfect sonic integration with any satellite system, VA500 incorporates adjustable gain control including a fixed level position for reference set-up, continuously variable phase (0-180 degrees), variable crossover frequency (60Hz – 200Hz) and three-position room adaptation. The amp is one standard rack unit high and is supplied with removable handles for mounting in a 19" pro rack and feet for stand-alone placement.
Specifications for the IW28S In-Wall Subwoofer
Impedance 4 ohm
Bass Drivers: 2 x 8" paper pulp
Frequency Response: 28 Hz – 200 Hz, ± 3dB
Sensitivity (drive signal 100mVolt VA500 amp): 88 dB/1m
Grille Dimensions (HxW): 622 x 312 mm
Baffle Dimensions (HxW): 616 x 306 mm
Wall Cutout (HxW): 580 x 270 mm
Mounting Depth: 95 mm
Weight: 11 kg
Grill Finish: White metal, paintable
Specifications for the VA500 Subwoofer Amplifier
Continuous Output Power: 500W/4 Ohm, Class D
Peak Output Power: 800W/4 Ohm
System Preamp: Analog
Line-Level Connections: Phono In, Phono Passthrough Out
Speaker Connections: 5-way binding posts
Controls: Volume, Phase, Crossover
EQ Switch 3-Position Room Adaptation:
1 – For one sub placed away from corners
2 – For one sub placed near a corner
3 – For one or two subs placed in corner(s)
Input Voltage: 100-240 VAC (switchable), Auto On/Off
Dimensions (WxHxD): 429 x 44,4 x 224 mm
Dimensions (WxHxD): Rack size 483 x 44,4 x 224 mm
Weight: 4 kg
Our installations with M&K Sound Subwoofers
Information
Подобни продукти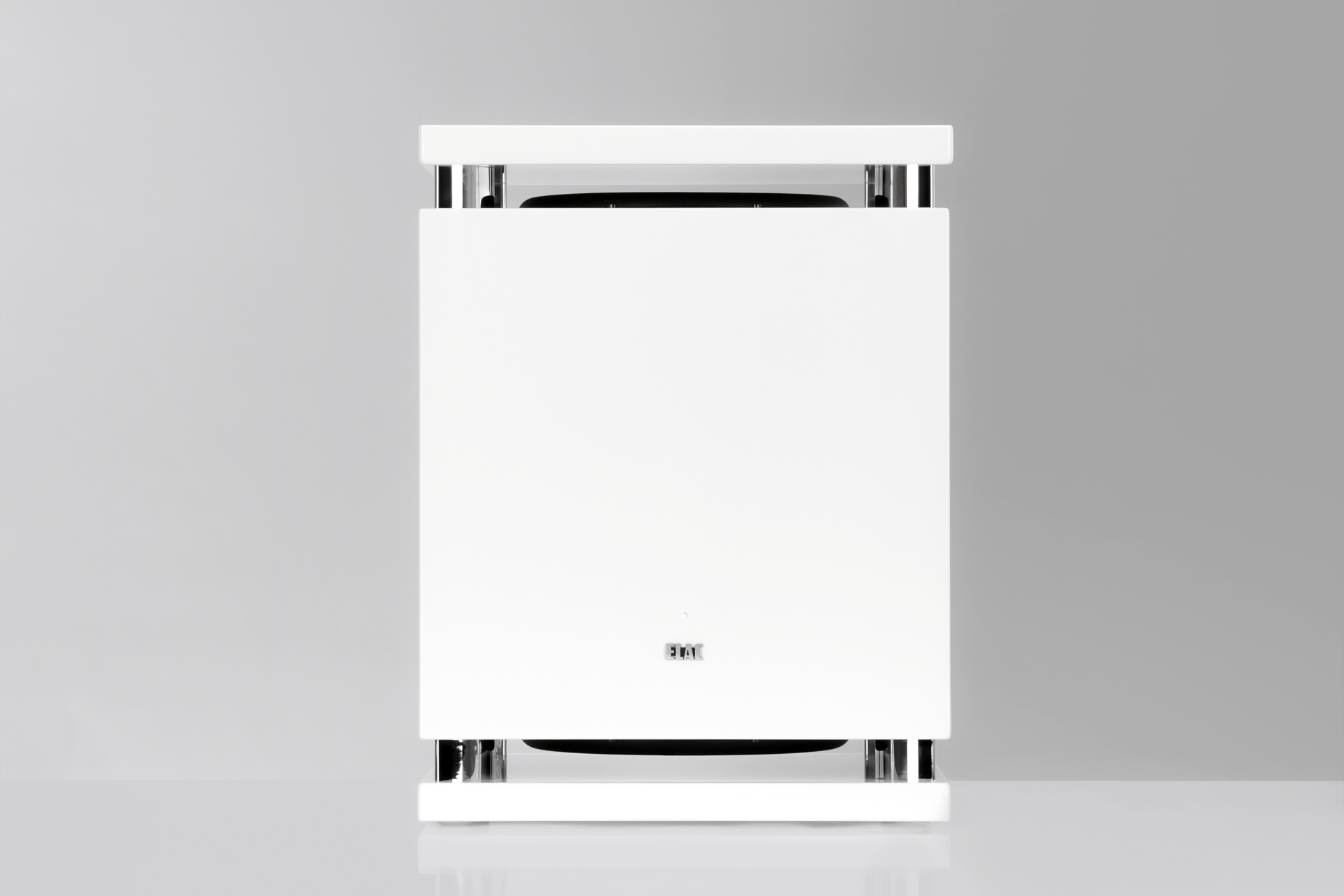 ELAC SUB 2070 Subwoofer Висок клас активен субуфер с два 10″ драйвера в система push-push/pull-pull инсталирани в корпус със затворен обем.