PERREAUX 200iX Integrated Amplifier
PERREAUX
PERREAUX 200iX Integrated Amplifier
2x230W 8Ω стерео интегриран усилвател с DSD DAC (ES SABRE Reference 9038 PRO 24-bit/384kHz asynchronous USB DAC), MM/MC Phono, Class A Headphone Amplifier, Bluetooth (SBC, AAC, aptX, aptX-LL, aptX-HD and LDAC), Home Theatre Loop, Headphone output (PERREAUX SXH2 Class A headphone amplifier – driving headphones between 8and 600 Ohms).
Усилвателят притежава обширни настройки чрез прегледно екранно меню, което можете да управлявате чрез бутоните на предния панел, дистанционното управление или чрез приложението за вашия смартфон.
Ще споменем някои от настройките:
– 2 режима на работа на усилвателя: за нисък и за висок импеданс
– изключване на ненужните входове и изходи
– индивидуално ниво и име за всеки вход и изход
– няколко филтъра за PCM и DSD за всеки цифров вход
– контрол на максималната мощност на усилвателя
– настройки на грамофонния вход за MM и MC дози
– настройка за слушалковия изход в клас А
Features
Custom Colour Options
Available in any colour of your hearts desire – including black; the PERREAUX 200iX is hand painted and delivered to order in your choice of custom colour and finish. A true work of art – the 200iX will blend in or stand out. Order yours today!
Integrated Class A Headphone Amplifier
The 200iX features our legendary SXH2 Class A headphone amplifier for personal headphone listening. Capable of effortlessly powering headphones from 8 – 600 Ohms. The SXH2 incorporates its own fully-independent power supply with power saving function and high / low power mode option.
Bluetooth Audio Streaming
The 200iX provides CD quality, Bluetooth audio streaming direct from any Bluetooth equipped PC, laptop, smartphone or tablet.
Oled Digital Display
The 200iX front panel features a high-contrast, monochrome, Oled digital display with adjustable brightness, text size and remote-controllable screen-mute functionality.
Advanced Microprocessor Control
The 200iX's extensive range of user-customisable functions and stepped analog volume controller are managed by a powerful onboard (electrically isolated) third-generation microprocessor. This provides flexible and functional user options for system configuration and control including stepped volume and balance control, custom operation and mute level setting and customised input naming.
Remote Control Options
The 200iX can be remotely controlled by using the convenient and functional PERREAUX iOS / Android bluetooth remote app – available free for download from Apple App store / Google Play store. The 200iX also features an included full-function, hand-held Infra Red Remote Control.
Home Theatre (HT) Loop
Integrate the 200iX into your Home Theatre system using the selectable home theatre input loop. This function allows the 200iX to receive signal and provide power to the main L/R speakers as a component of a surround sound system.
Balanced (XLR) Inputs
For use with balanced analog audio sources and professional audio devices such as CD players, tape machines and mixing consoles enabling the 200iX to take full advantage of the benefits of balanced analog audio.
Non-invasive Protection
The 200iX features sophisticated microprocessor controlled protection for the amplifier and connected load. The protection covers supply (soft-charge), over-current, over-temperature, DC offset, internal AC supply and DC fuse protection. The protection is non-invasive and does not interfere with or degrade the audio signal path.
Integrated Trigger Output
This handy function allows the 200iX to have standby control over, or be controlled by, compatible trigger input connected audio equipment such as the PERREAUX SM6 MkII preamplifier, 100p Stereo power amplifier, 350 Stereo power amplifier or 750 Monoblock power amplifier.
High Current Power
With its internal high powered MOSFET class AB power amplifier and toroidal power supply , the 200iX is capable of continuously delivering 230 Watts of power into an 8Ω load and an impressive 500 Watts into 4Ω.
Isolation Feet
To minimize vibrations, aftermarket isolation 'feet' can be easily attached to the 200iX if desired. Additionally the 200iX has the ability to go from the standard 4 feet to a 3 feet pattern to further minimise mechanical isolation.
Asynchronous Digital to Analog Converter (DAC)
Stream high resolution digital audio directly from your computer via the optional , integrated, up-sampling, ES SABRE Reference 9038 PRO 24-bit/384kHz asynchronous USB DAC. The 9038 features a USB input, 2 x Optical (Toslink) Digital Inputs, 2 x Coaxial (SPDIF) Digital Inputs for the connection of Digital Set Top Boxes, TV, CD Players, Music Streamers or Games Consoles and an AES EBU (XLR) Digital Input for the connection of professional digital audio sources.
Phono Preamplifier Module
The 200iX features an integrated PERREAUX Moving Magnet (MM) / Moving Coil (MC) phono preamplifier module with Earth Binding Post. This microprocessor controlled module provides simple connection and input gain control for both Moving Magnet and Moving Coil turntables.
Built To Last
Mechanical strength, reliability and longevity have always been the hallmarks of PERREAUX's amplifier designs. The 200iX is a rugged, powerful, high performance stereo power amplifier designed to drive the most challenging of speaker loads with minimal effort. Buy one for life.
Digital Inputs
Bluetooth Audio Streaming, USB, AES / EBU Input, 2 x Optical (Toslink) Inputs, 2 x Coaxial (SPDIF) Coaxial Inputs
Analog Inputs
1 x pair Balanced Inputs (XLR), 5 x pairs Unbalanced Inputs (RCA), 1 x pair Preamp In (RCA).
Analog Outputs
1 x pair Unbalanced Line (TAPE) Outputs (RCA), 1 pair Unbalanced Preamplifier Outputs (RCA), 1 pair of Speaker Binding Posts per channel, 1 Headphone Output (6.35mm jack).
Misc
1 x Trigger output (3.5mm jack), 1x IR Input, 1 x IR Output
Amplifier
Rated Power Output (per channel):
230W into 8Ω
400W into 4Ω
Maximum Power Output (prior to clipping, per channel):
230W into 8Ω
400W into 4Ω
Total Harmonic Distortion + Noise
Typically: 0.002% @ 1kHz, 200W into 8Ω
20Hz to 20kHz: 0.010%, 200W into 8Ω
Frequency Response
20Hz to 20kHz: +0.00dB, -0.15dB
5Hz to 60kHz: +0.00dB, -0.50dB
Damping Factor: 800 @ 1kHz, 230W into 8Ω
Signal to Noise Ratio (unweighted): better than 98dB, ref. 200W
Preamplifier Section
Input Impedance
Unbalanced: 12kΩ
Balanced: 22kΩ
Input Overload
Unbalanced: 8Vrms
Balanced: 8Vrms
Volume Control Range: -95.5dB to +31.5dB
Volume Control Resolution: 0.5dB per step
Input Volume Trim Range: ±40dB
Balance Resolution: 0.5dB
Balance Range: 40dB
Headphone Amplifier
Headphone Rated Power Output:
1.0W into 32Ω
150mW into 300Ω
Headphone Total Harmonic Distortion + Noise
Typically: 0.001% @ 1kHz, 1.0W into 32Ω
20Hz to 20kHz: less than 0.002%, 1.0W into 32Ω
Headphone Volume Trim Range: ±40dB
200iX DAC Module Specifications
Digital Inputs:
2 SPDIF Coax (RCA)
2 SPDIF Optical (Toslink)
1 USB (Type B)
1 AES EBU (XLR)
Chipsets: ES9038PRO Sabre DAC / XMOS (32bit / 140db noise floor)
Input Sample Rate:
32, 44.1, 48, 88.2, 96, 176.4, 192kHz (Coax, Optical)
32, 44.1, 48, 88.2, 96, 176.4, 192, 352.8, 384 kHz / DSD 64, 128, 256 (USB)
Input Word Length (maximum):
32-bit (Coax, Optical)
32-bit (USB)
Input Impedance: 75Ω (Coax)
Transformer Coupled
Coax: Yes
Optical: No
USB: Asynchronous and Galvanically Isolated
Analogue Section
Digital to Analogue Conversion: 32-bit/384kHz
Output Voltage: 2.0Vrms @ 0dBFS
Total Harmonic Distortion + Noise: 0.002%, 20Hz-20kHz @ 0dBFS
Frequency Response
20Hz to 20kHz: +0.0dB, -0.1dB
5Hz to 94kHz: +0.0dB, -3.0dB
Dynamic Range (unweighted): better than 115dB @ 0dBFS
Signal to Noise Ratio (unweighted): better than 115dB @ 0dBFS
Channel Separation: better than 110dB @ 0dBFS
Stop Band: 105kHz
Stop Band Attenuation: 125dB
Input Impedance
Low Gain (MM): 47kΩ
High Gain (MC): 100Ω
Input Capacitance: 22pF
Gain
Low Gain (MM): 40dB
High Gain (MC): 60dB
Total Harmonic Distortion + Noise
Typically: 0.002% @ 1kHz, low gain setting
20Hz to 20kHz: less than 0.010%, low gain setting
RIAA Accuracy: ±0.5dB, 20Hz-20kHz
Signal to Noise Ratio (unweighted): better than 85dB, low gain setting
Dimensions
Width: 426mm
Depth: 344mm
Height: 149mm
Weight: 19kg
Цена – 14 000.00 лв.

Намалена цена – 13 300.00 лв.
Reviews
Integrated Amplifiers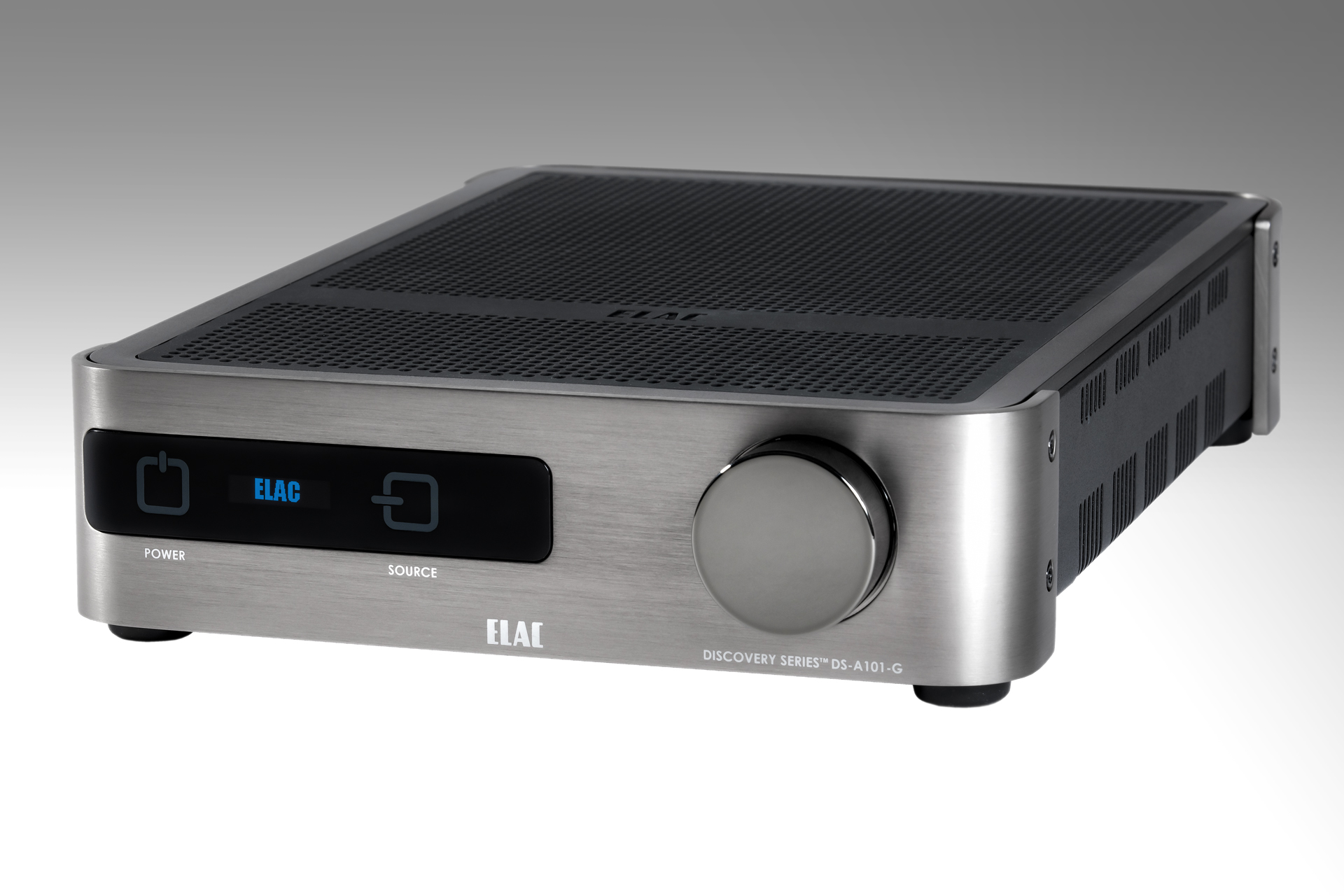 Подобно на известните швейцарски ножчета, ELAC Discovery DS-A101-G е събрал големи възможности в малкото си тяло. Дали може всичко… едва ли, но ще имате ли необходимост от повече?