SONANCE PS-P43T 4″ Professional Pendant Speakers
SONANCE
SONANCE PS-P43T 4″ Professional Pendant Speakers
SONANCE PS-P43T 4″ Pendant Speaker
Overview
4″ Pendant
Sonance Professional Series PS-P43T Pendant Speaker utilizes a minimalistic design similar to pendant lighting to blend discreetly into the environment, and take advantage of the same one-piece grille design as the In-Ceiling Speakers to deliver consistent sight lines when installed in the same space.

The integrated top cover hides the hanging hardware and wiring connector.

A high-excursion 4" polypropylene woofer delivers effortless low bass extension, that exceeds most 6.5″ and even 8″ competitive products, while the pivoting chambered 1" soft dome tweeter can be directed to ensure accurate coverage, when speaker positioning is compromised.

A full-fidelity transformer delivers uncompromised sonic performance in either high (70V, 100V) or low (8 Ohm) impedance.

Additionally, the Sonance PS-P43T is certified for UL 1480 and UL 2239.

Available in either black or white (paintable).
Specifications
Frequency Range (-10dB): 57Hz – 25kHz
Frequency Range (-3dB): 75Hz – 20kHz
Power Capacity: 60 Watts Continuous Program Power | 30 Watts Continuous Pink Noise
Nominal Sensitivity: 87dB
Nominal Coverage Angle: 120 degrees conical coverage
Directivity Factor (Q): 7.6
Directivity (DI): 8.1dB
Rated Maximum SPL: 105dB @ 1 meter (3.3 feet) average, 110dB peak
Rated Impedance: 8 Ohms nominal, 6 Ohms minimum
Transformer: 30W, 15W, 7.5W (3.8W 70V)
Crossover Point: 3000Hz
Overall Dimension: 6.3" Diameter x 11" Depth (160mm x 280mm)
Net Weight: 6.45lbs (2.93kg) each
Shipping Weight: 18.92lbs (8.58kg) pair
Unit of Measure: Pair (Single upon request)
Color: Black or White
Grille: Bezel-less, powder coated, magnetically retained grille
LF Driver: 4" (100mm) Polypropylene Cone, Butyl Rubber Surround
HF Driver: 1" (25mm) Cloth Dome, Pivoting, Ferrofluid cooled
Input Connectors: Four, pin Euroblock with loop output connections
Safety Agency: UL 1480, UL 2239
Suspension Points: Five points, top mounted
Supplied Hanging Hardware: 16.4' (5m) Stainless Steel Cable with Snaphook x 4, Gripple Hanger x 2, Gripple Adjustment Tool x 2
Препоръката ни:
Цена за чифт: 2021.00 лв.

Намалена цена за чифт: 1920.00 лв.
Information
Подобни продукти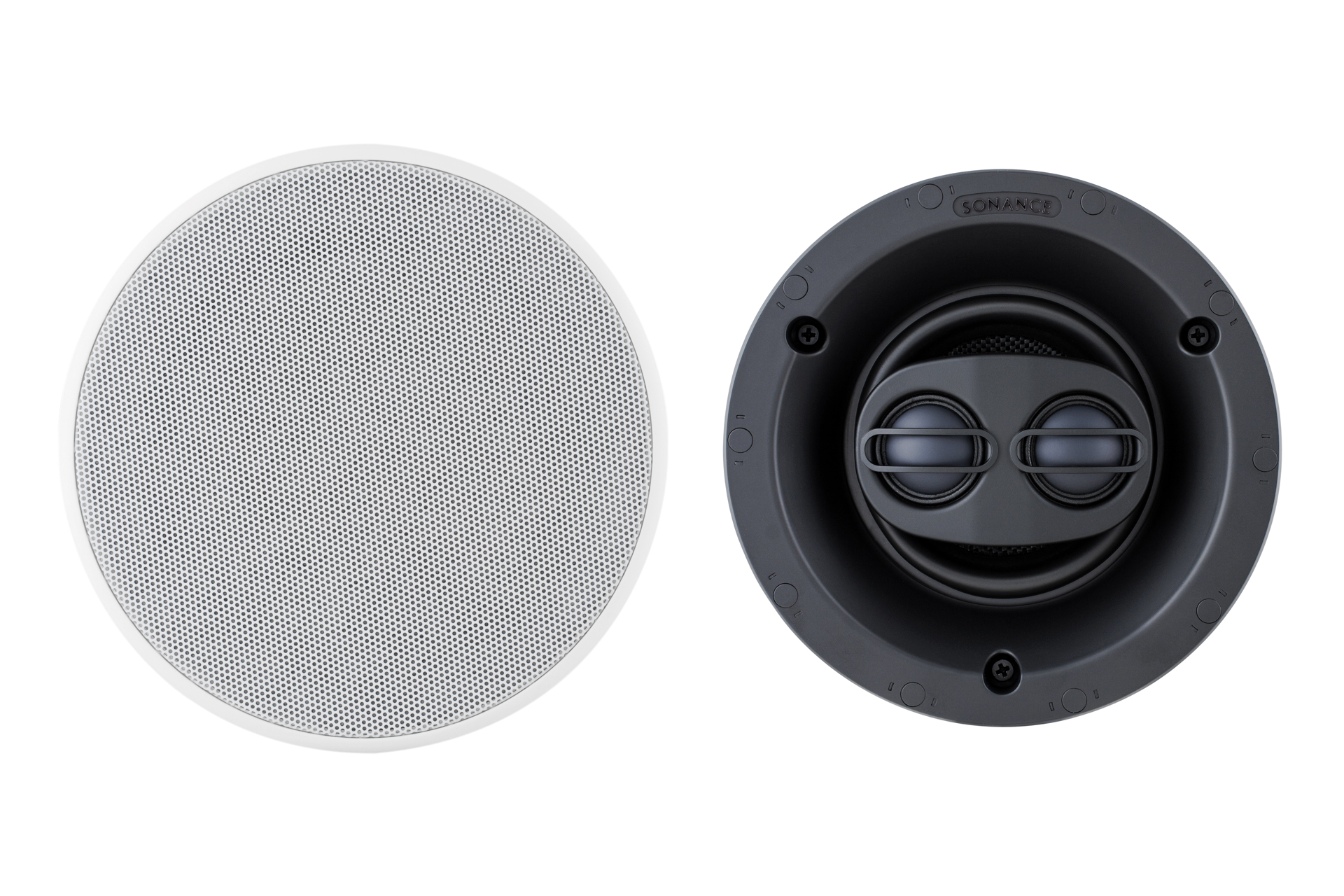 SONANCE VP46R SST/SUR Единична стерео тонколона. Съраунд тонколони Dolby Atmos за домашно кино.