M&K Sound V10+ Subwoofer
M&K SOUND
M&K Sound V10+ Subwoofer
M&K Sound is proud to announce the availability of the brand-new Compact V10+ subwoofer,
an upgraded version of the small-footprint and living room friendly V10.
The V10+ delivers an opportunity for consumers to enjoy that legendary deep and accurate bass for which M&K Sound is world-renowned in a compact and affordable package. The new subwoofer allows a wider audience to experience 'The Choice of Professionals' and listen to movies and music the way they are meant to be heard.The manageable form factor of the beautifully designed V10+ (available in black satin or white satin finishes) with new curved cabinet design means it can be placed almost anywhere in a residential or office environment without drawing attention to itself. Feel those rumbles without the clutter!
M&K Sound's expert engineering team has increased the amplifier power output for the V10+ from 200W to 300W RMS and extended deep bass output from 25Hz down to a growling 20Hz (-6dB).
A single 10-inch driver with newly treated paper cone in a sealed anti- resonant enclosure – combined with a high-efficiency Class D amplifier and M&K's proprietary 'front end' input stage – ensure that the signature bass performance is not just heard by the audience, but viscerally felt.
M&K Sound's Compact V10+ Subwoofer sports a brand new curved and tapered external housing with tastefully formed embossed logo, making this discrete powerhouse of deep bass ideal for placement within any décor-friendly or design- conscious environment.
Combined with a newly developed and magnetized front grill, which can be easily removed and replaced, the V10+ represents an unrivaled ergonomics and performance package for movie fans, audiophiles and casual listeners alike.
Specifications
Frequency Response: 24-200 Hz (Average Response in Room +/- 3 dB)
Frequency Roll Off: 24 Hz (-6 dB 20 Hz Nearfield )
Variable Low Pass Filter: 60-200 Hz Continuesly Variable / 4th Order
Phase Control: 0 – 180 deg Continuesly Variable
Line level input/output: 2 x RCA phono Left / Right – input / output
Amplifier type: Analog input / switch mode power output
System Principle: Sealed enclosure
Amplifier Power output RMS: 300 watt 0.5% THD at 300W into 4 ohms
Amplifier Power output Peak: 600 watt
Standby Power Consumption: 0.5 watt 30W Average, 150W Max
Headroom Limiter Maximizer: Yes (Dynamic driver excursion control)
Auto Power detect on/off Yes
Dimensions: H x W x D: 45 x 345 x 345 mm
Weight: Netto 15.4 kg
Manual: Yes Safety Manual included in packing
Accessories: Yes Gloves, US/EU Power cords, Rubber Feet
Our installations with M&K Sound Subwoofers
Information
Подобни продукти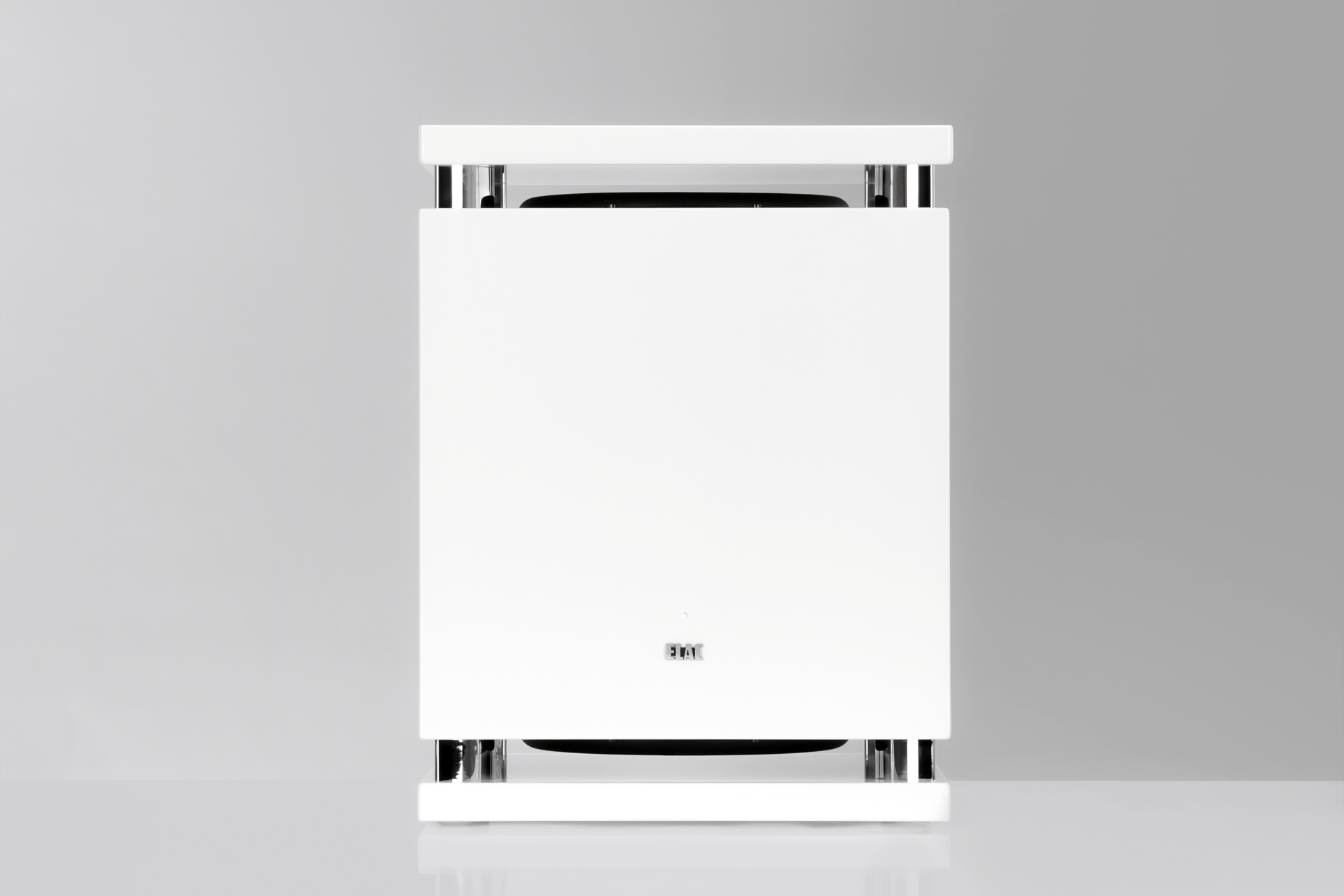 ELAC SUB 2070 Subwoofer Висок клас активен субуфер с два 10″ драйвера в система push-push/pull-pull инсталирани в корпус със затворен обем.